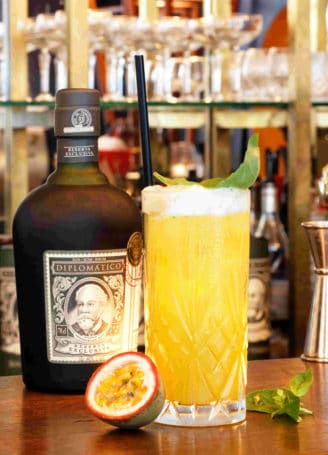 For the summer 2016, Diplomático suggests El Rey Albahaca, a cocktail with a basil base created by their new Brand Ambassador Kevin Sueiro. A first creation from the 27 year old bartender, the son of a chef who went from medicine to the London and Monaco cocktail scenes. This is a cocktail that he has already had the chance to test in May, at one of the parties organised by the brand as part of their programme "The world needs more Diplomats".
Ingredients
– 5 cl of Diplomatico Reserva Exclusiva
– 10 basil leaves
– 1 fresh passionfruit
– 8 clof pineapple juice
– 1 cl vanilla syrup
Method: In a shaker, crush the basil leaves and then add all the other ingredients. Shake vigorously then strain into a tall glass. ¡ Está listo !
More information on the programme at: www.lesnouveauxdiplomates.fr