Seawolf is the first white distilled on Scottish soil. it is the result of a collaboration between Mike Aikman, Jason Scott (co-owner of Bramble, one of world's 50 best bars according to drinks international) and the cofounder of vino wines, Gavin Ferguson. This trio is responsobile for the innovative enterprise of boilermaker drinks co. and they hope to help make rum the next artisinal sector in the uk (with whiskey already there and gin following close behind in full swing).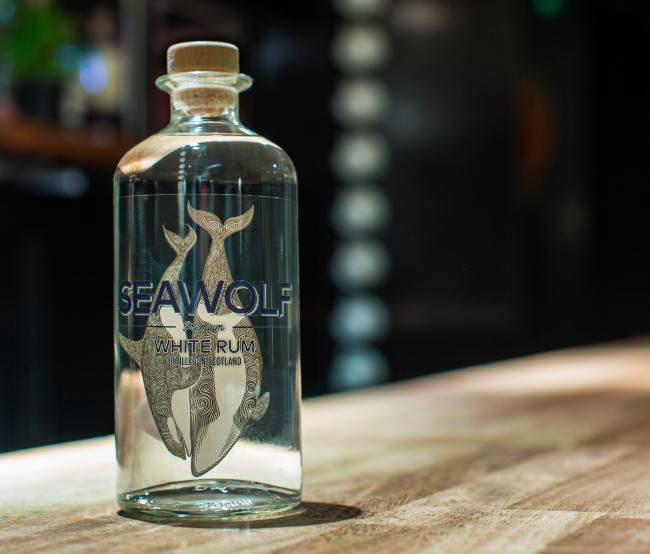 This new product was born from Mike Aikman's observation that "Rum is a prominent player in the cocktail world. However, when we searched for a British brand, we found that not one single white rum was being distilled in Scotland and, thus, SeaWolf was born! We think Scottish rum is about to cause quite a stir."
Made in Angus at Ogilvy Spirits, the fermentation of the cane molasses is carried out at a low temperature over four weeks using rum and champagne yeasts.
At the moment, Ogilvy uses a 32 plate Carterhead still to produce its vodka (in two distillations).
This white Scottish rum is well suited for cocktails, explains Mike Aikman "Scotland doesn't have an ideal climate for making rum, so we developed a full-flavoured rum designed to be used in cocktails."
Producers Tasting Notes:
"Notes of ripe bananas and sugar cane which give way to tropical fruits on the palate with a slight finish of citrus and spices".
---
SeaWolf
Launched December 1, 2016, bottled at 41%. Only 300 bottles available before yearend at £29.90 (approximately 35€) at  vinowines.co.uk