Navigating between Charente, Barbados and Jamaica, Alexandre Gabriel is building a small empire wihin the rum industry. Known for his passion for production, he talks with us about his social and environmental concerns andevokes the existing threats, particularly regarding the Caribbean sugar industry.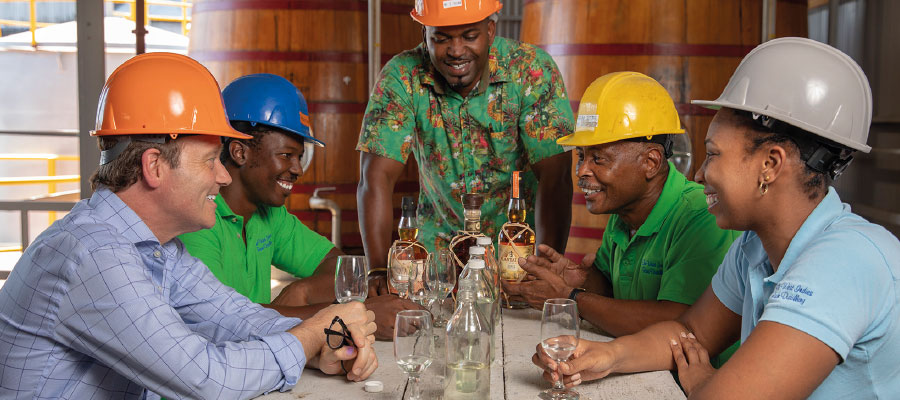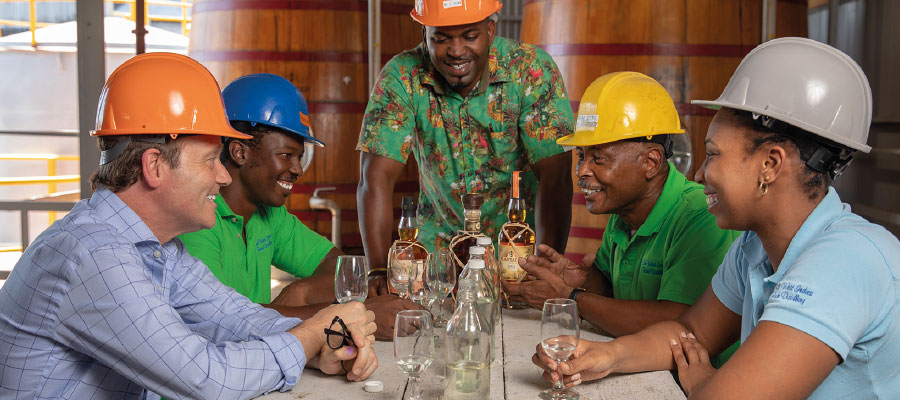 Rumporter: Alexander, you recently took over the WIRD distillery in Barbados. Among all the investments that you've made to modernize your means of production, is the environment one of your primary concerns?
Alexandre Gabriel: People are our primary concern, and we want people to evolve and flourish in the world in which we live, with its environmental constraints and challenges. I have to say that the teams at the WIRD distillery in Barbados and NRJ in Jamaica are exceptional partners. It is with great humility and pleasure that I consider myself to be part of these two teams. Whether in Jamaica or Barbados, our goal is to protect and develop employment, and this of course, under the best conditions. At the Barbados WIRD distillery, for example, we have expanded the team by 40% in just over two years. In addition, we reinvest every euro earned locally without increasing dividends in Europe. That is our commitment. We consider our collaboration with Plantation and the WIRD, Clarendon and Long Pond distilleries to be a partnership, in which we must all be able to thrive in a healthy manner.
This can only happen if everybody benefits. To begin with, we secured and developed contracts with partners to whom we sell rum. We then began to reshape our means of production and launch many innovations by looking at traditional rum distillation and production techniques found in the incredible archives of the WIRD distillery. Since 1893, this distillery has housed the archives of its activity and rum production, carefully protected in the "distillers vault"
Rumporter: And more specifically, on the subject of ecology?
AG: We are located in the Caribbean. We have plenty of wind and the sun, so it would be a shame not to take full advantage of them. In Barbados, Andrew, who is the MD of WIRD, has a master's degree in environmental studies and comes from a family that cares very much about people (his father is a top surgeon who has devoted his life to helping others). We are investing a lot, with the introduction of photovoltaic panels that will cost us almost a million euros, enabling us to produce around 1/3 of our electricity consumption in the coming year, with a target of covering 100% of our needs within 3 to 5 years, at a pace that will of course be dictated by our means. In Jamaica, our teams are in the process of reaching an agreement with a local partner with the same target. With regard to energy used for distillation, we will proceed in stages. At the Clarendon Distillery, our first step was to change the energy supply of our boiler from oil to natural gas, which is a cleaner energy with lower carbon dioxide emissions. That has now been completed. We are studying the possibility of switching to a biomass boiler but we aren't ready to do that yet. It should be noted that these investments are very substantial for a SME like ours. Our commitment is carried out according to our means, with every cent earned being re-invested in the local fabric and means of production.
There are more than 10,000 ha of sugar cane planted in Barbados
Rumporter: Many Caribbean islands have had to stop planting sugar cane because they just aren't competitive. Does Barbados still produce sugar?
AG: There are more than 10,000 ha of sugar cane planted in Barbados, and there is the historic Port Vale sugar factory, which produces sugar and therefore molasses. In recent years we have been able to produce all our Plantation Barbados rum at the WIRD distillery with local molasses. However, the quantity of molasses produced locally is insufficient for the rest of our distillation or the production of other distilleries in Barbados. The WIRD distillery has produced more than 80% of the island's rum for more than a century. For many years, a gentleman's agreement regulated the supply of local molasses through WIRD, in proportion to each distillery's distillation.
To supplement this, we import the rest according to our needs just like the other distilleries that use molasses. On this point, it's a bit like Scotland's distilleries that use local grain, but also import a lot of it. It should be noted that the liberalisation of the price of sugar has done a great deal of harm to CARICOM's small, historic sugar factories in the Caribbean, which we regret. Unfortunately, this has also affected Port Vale. This is a matter of great concern to us, and we are working very hard to save the sugar cane sector in Barbados, in collaboration with other stakeholders in the country. It is a very important topic for us.
Rumporter: In the global context of sugar markets, which is very tight in terms of price, how do you think that the rum sector should be organized if it wants to continue to: 1 / retain control over its production of molasses (both in terms of quality and respect for people and the environment) 2/ evolve in a profitable manner? The example of Reunion Island, which concentrated on the 3 pillars of sugar/rum/electricity and so created the conditions for the survival of its sugar cane industry vs. the example of Puerto Rico that no longer has any local sugar production to set up such an ecosystem…
AG: It's a very complicated issue. You can see it with the closure of the historic Monymusk sugar factory in Jamaica, which is adjacent to Clarendon. The sugar market has become very complicated for countries with strong social legislation and small planted areas limited by their very size when compared to continental productions.
The major operators, namely Brazil, India, China, Australia, and Southeast Asia (Philippines, Indonesia, Thailand) have totally disrupted the market, especially since the full liberalisation of the sugar market at the end of 2017. We want to protect agriculture and our local sugar cane. We are working on that and are researching rums distilled from a blend of cane juice and molasses.
We consume too much sugar, and what's worse, bad (ultra-refined) sugars
In Jamaica, at Long Pond and Clarendon, we grow about 500 hectares of sugar cane. We also want a profitable cane culture in Barbados. It's an important and exciting subject. In another life, I'd love to be a producer of sugar of the very finest quality. We need to apply to sugar what we have applied to our Plantation rum: consume less and only original products of excellence, by following traditional and respectful methods. We consume too much sugar, and what's worse, bad (ultra-refined) bland sugars, yet it is an infinitely noble material if made in an artisanal manner and also consumed in moderation. On the other hand, producing the quantities of molasses we need would be an investment that we cannot make alone, especially as we have to assimilate our last two acquisitions. These are questions that are asked in Barbados and in the technical commissions of rum producers of which I am a member, namely WIRSPA (West Indies Rum Association) and more broadly CARICOM: how can we save the local sugar industry or at the very least, the cultivation of sugar cane? Remember that sugar has disappeared from many Caribbean islands which are members of CARICOM.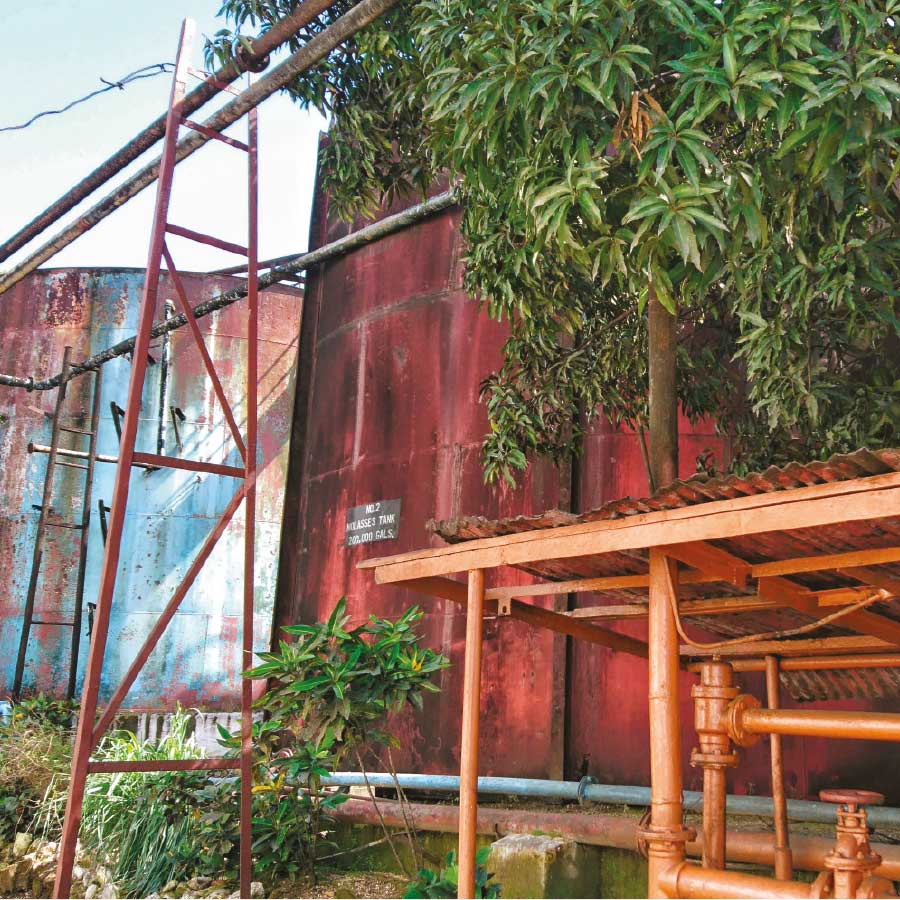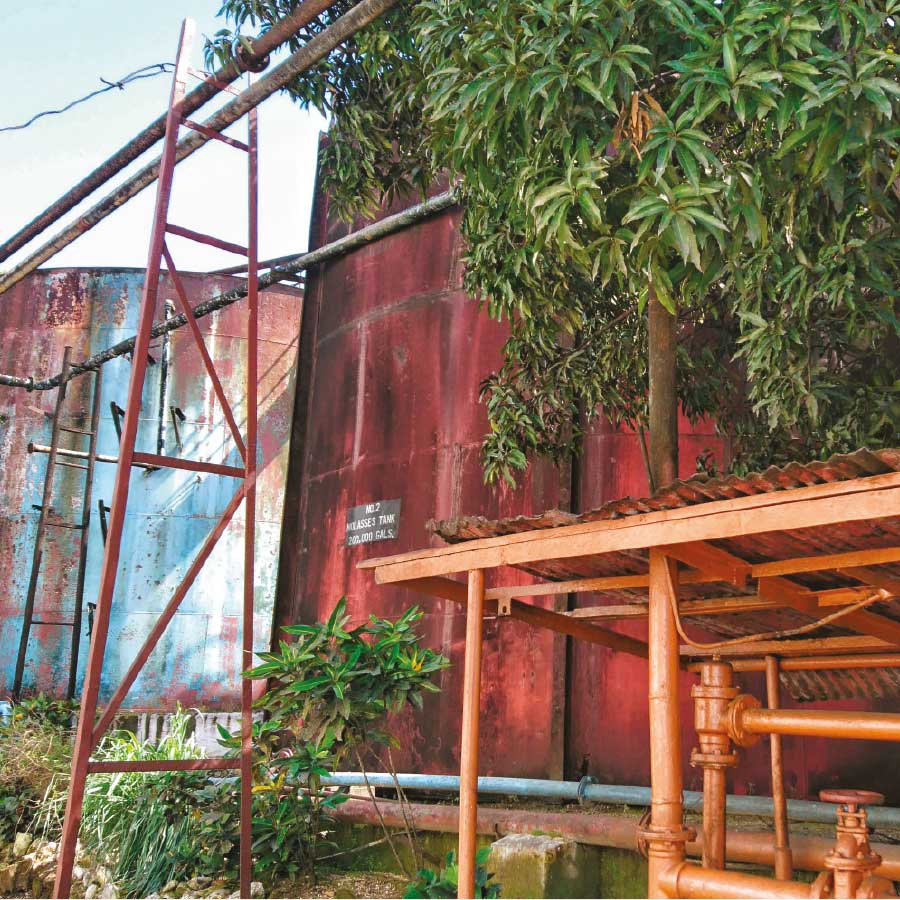 Rumporter: Since you import molasses, how do you check that it is manufactured under clean conditions (socially and ecologically)?
AG: We are fortunate that there is a certain awareness, particularly in the sugar industry. Much work remains to be done, but I remain confident about the current evolution. We have two sources for importing molasses: brokers such as ED&F Man and direct supplies from mills that we believe to be reliable. ED&F Man is an historic agricultural broker (ed: 18th century) which has a charter of good conduct and is very strict on the whole "sustainable" element.
Don Ben has been taking care of that for us for over 20 years, and he is very vigilant. We have established an internal code of best practices that we apply to each of our suppliers. These are very specific standards regarding the cultivation of cane/molasses covering human rights, working conditions and respect for the environment.
it's a shame to have raw materials travel over great distances
What's more, we attach great importance to the fact that the sugar mills with whom we work are certified, or are undergoing certification, by recognized third-party organizations such as BonSucro or ProTerra. Having these discussions with many rum producers in the region marks a fundamental shift and I think we are moving toward major improvements in the industry. However, we remain vigilant. For example, we refused a partnership with an Asian producer, who, without prejudice to his goodwill, could not provide us with the guarantees that certifying bodies like Bonsucro provide. These international institutions are very important because they can effectively and methodically monitor the practices of the various producers. It is a separate occupation in its own right that does not tolerate amateurism.
Of course, molasses that come with these guarantees is more expensive, but it's a non-negotiable point. That being said, once again, it's a shame to have raw materials travel over great distances when they could be produced locally or at least regionally. So we favour regional production, although we do pay attention to their source. Several years ago, we stopped working with Nicaragua, but may work with them again, as the indicators seem to be very positive in that country.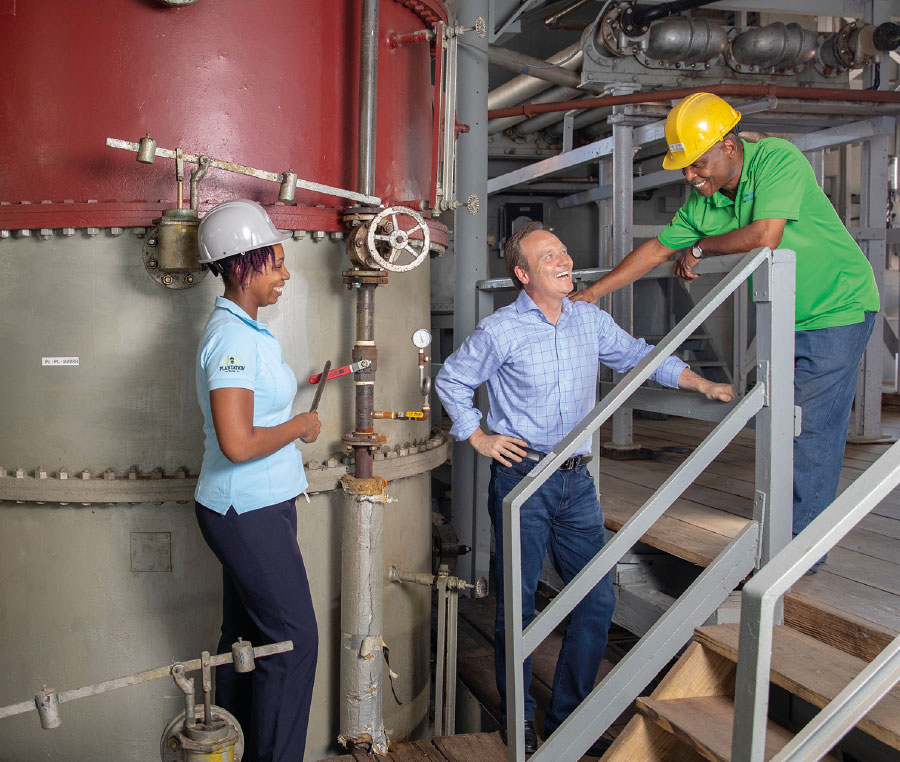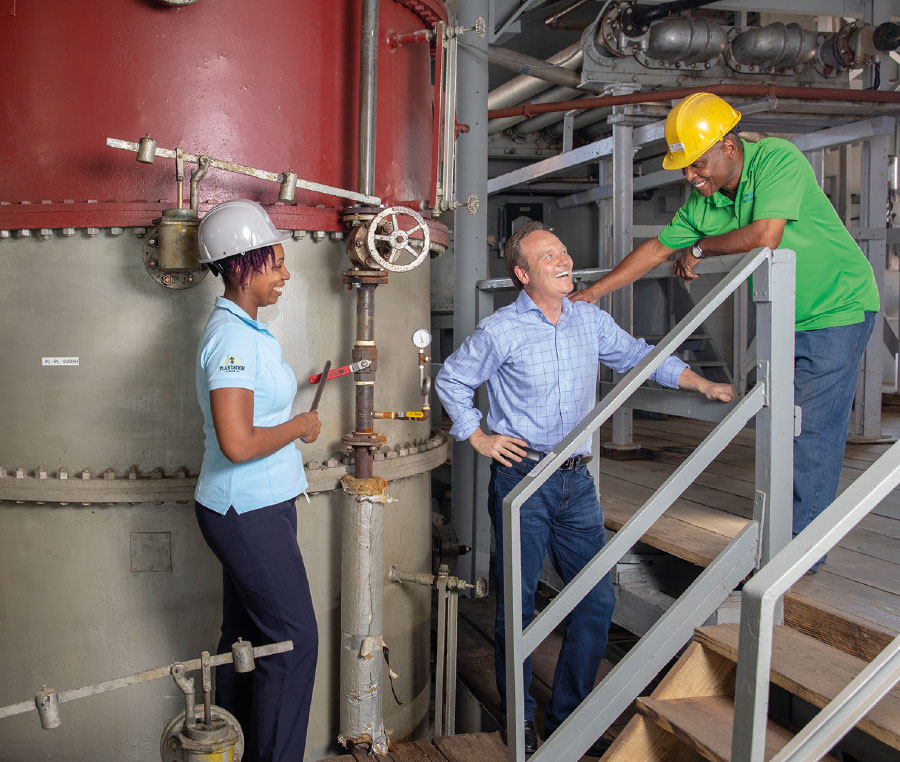 Rumporter: Some people are pushing for bottling to take place on site as part of GI rum specifications. What's your opinion?
AG: In the old and still-current regulations covering rum production in the Caribbean islands of CARICOM (Barbados, St. Lucia, Grenada, etc.), the origin of a rum is the place where fermentation and distillation take place (CARICOM Regional Standard for Rum). We support these regulations, which are based on historical and technical reasons, according to which the origin of a rum and its taste profile are largely defined during, and as a result of those two operations, via the fermentation alcohol, the quality of which is important, yeasts (ideally local), different fermentation methods on almost every island, and distillation techniques specific to each distillery. Of course, we would like the raw material to come from the country of origin, but, unfortunately, that is no longer the case in many countries. On this point, rum is similar to Scotch whisky, which most of the time is fermented and distilled using imported grain.
After that, the distillate (always distilled or osmotized alcohol and therefore neutral) and the origin of the glass used in the bottles bring nothing in terms of substantial transformation of the product. Transporting containers full of empty bottles to rum producing countries (ed: virtually no islands have a glass industry, which uses a huge amount of energy in its blast furnaces), means that we are transporting bottled air in one direction and then transporting rum, usually distilled to 40°, equivalent to bottled water (which, moreover, is neutral, let it be repeated) in the other direction. This is not inconsequential because for rum containing 40% alcohol rum, water accounts for 58% or 59% of the volume. From a carbon footprint point of view, this is far from ideal.
Rumporter: Isn't the idea behind it, which Luca Gargano strongly defended, and that seems to us fair (in the sense of fair trade), to leave added value in the producing countries?
AG: We share this idea because creating and leaving value in the country of production is important to us. A distillery and its team must live honourably from their work. In reality, added value is left wherever the owner of the brand decides to leave it, whether it is a distiller or not. Reducing a distillate with water added locally or importing bottles doesn't change anything. Our commitment to the Caribbean is to reinvest locally what we earn and thus create local value without necessarily bottling on site for the reasons mentioned above.